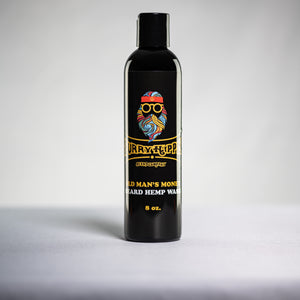 Paraben Free Hemp Oil Beard Wash Cleanse is Sulfate Free, Vegan perfectly cleans beard hairs as well as skin. Hemp Oil is rich in Omega 3, Omega 6 and Omega 9 so this wash is a serious cleansing super-powerhouse. Hemp Oil contains natural moisturizing properties. Therefore it is perfect ingredient for cleansing without drying.

Benefits:
Vegan
Non Drying
Paraben Free
Colors & Scents well
Sulfate Free
Rich lather
Ingredients:
Organic Aloe Vera Juice, Cocamidopropyl Betaine, Sodium Decyl Glucoside, Sodium Lauroyl Lactylate, Kosher Vegetable Glycerin, Citric Acid, Sodium Chloride, Organic Hemp Seed Oil, Ethylhexylglycerin & Phenoxyethanol (Eco Certified Paraben Free Preservative) Rice Bran Oil (Rich in Vitamin E).
Great product
The product is great, I really like it! I would love to give you five stars but the only thing that would not allow me to do so is, I order a fragranced wash but received one without. It is not a problem though, I will order again when I have finished the bottle that I have.
The best!
The absolute best wash and conditioner I have ever had! Absolutely love it the only thing I wish was different is that it came in a bigger bottle!
Overall Great...
More stripping than I usually expec5 from a liquid wash but that's ok! Just not daily for me. ;)
Definitely shouldn't use a beard wash or wash out conditioner everyday because it may leave your beard feeling dry. I would suggest using a wash every 3 to 4 days, conditioner every 2 days or so, and just rinse in-between. It will leave your beard feeling better. Thank you for the support and review. Going to add this info to the product details.
Old man's money
This is the best beard and conditioner I have ever used.Love the way my beard feels after a shower and the way it feels all day long.