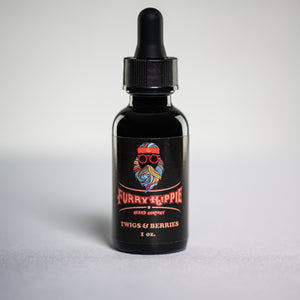 Wandering in a winter forest you inhale the mind expanding aroma of evergreen trees and wild berries. 
Ingredients: 
 Jojoba Oil
 Argan Oil
 Sweet Almond Oil
 Pumpkin Seed Oil
Fragrance
Directions:  Use 4-5 drops and apply as needed until your beard takes you into a magical wonderland!
Best beard oil on the market
After trying several beard oils and products. I finally found one that has all basis covered. Solid product and an assortment of killer fragrances. And the of course the price is right.
Great Branding!
I'm so excited to carry Furry Hippie products in my shop!
Absolutely Amazing!!
I use a lot of the big names, Fable, Gun fighter, GBS, Beard Octane, Ruddy Man,Honest Amish, etc…
Bought the Twigs and Berries oil and butter today and let me tell you, it did not disappoint! Smells great, and feels amazing in my beard! I'll definitely be trying their other scents. Plus, it's made locally right here in Madison Alabama! Great job, you guys rock!👊🏻👊🏻