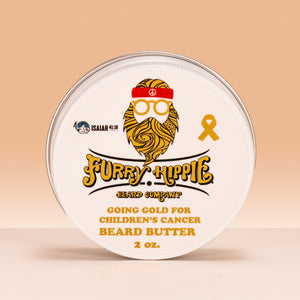 September is Children's Cancer Awareness Month. To show support, Furry Hippie Beard Company is going gold and donating 100% of the money received for this limited supply 2oz tin to Isaiah 41:10 in honor of all of the families affected by this disease. In addition to our donation Isaiah 41:10 has offered to donate a book for every Going Gold item purchased to Blue Skies. To Learn more about this amazing foundation please visit www.Isaiah4110.org
This years scent profile: Evergreen, Cedar, Smoke and Leather.
Ingredients:
Shea Butter                       Jojoba Oil
Mango Butter                   Argan Oil
Hemp Seed Butter            Sweet Almond Oil
Illipe Nut Butter                Pumpkin Seed Oil
Local Beeswax                   Fragrance
Awesome
Smells great! Works great! The owner is very knowledgeable and answered all my questions so I can be informative for my clients.