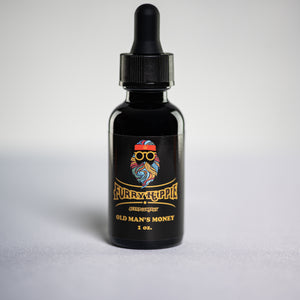 Nothing says relaxing like an aged scotch whiskey with hints of bergamot, vanilla and cedarwood to remind you of your old man's pad.
Ingredients: 
 Jojoba Oil
 Argan Oil
 Sweet Almond Oil
 Pumpkin Seed Oil
Fragrance
Directions:  Use 4-5 drops and apply as needed until your beard feels relaxed!
Amazing
Old Man's Money is THE BEST!!!
Awesome Product
Ever since using Furryhippebeard products, my beard looks and feels awesome, Jason directed me to a lot of great products and everything I have used has been 100%. Thanks Jason for your guidance.
Amazing smell
It's long lasting and smells amazing
Quality product
I love this oil! Incredible stuff that actually works and doesn't leave the beard dry.
Fantastic beard oil!
Great scent on this one. Not too strong on the whiskey so it's perfect for work. Also light vanilla notes comes through. Really nice in beard, feels great all day. I would definitively recommend this one.