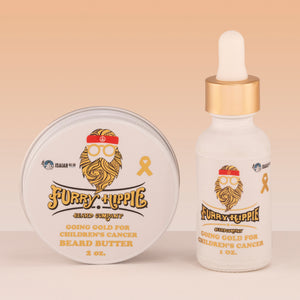 September is Children's Cancer Awareness Month. To show support, Furry Hippie Beard Company is going gold and donating 100% of the money received for this limited supply Oil and Butter to Isaiah 41:10 in honor of all of the families affected by this disease. In addition to our donation Isaiah 41:10 has offered to donate a book for every Going Gold item purchased to Blue Skies. To Learn more about this amazing foundation please visit www.Isaiah4110.org
 This years scent profile: Evergreen, Cedar, Smoke and Leather.
Ingredients:
Shea Butter                       Jojoba Oil
Mango Butter                   Argan Oil
Hemp Seed Butter            Sweet Almond Oil
Illipe Nut Butter                Pumpkin Seed Oil
Local Beeswax                   Fragrance
Awesome!!
Jason,
Wow!!The Going Gold for Childhood Cancer scent is awesome! This woodsy scent is so smooth and warm. Smells like you're sitting under a big pine in an Old Growth Forest. This should be your next scent! I could ware this every day. I hope you consider adding this to line up.
Amazing
Amazing product as usual from this company. The oil and butter make my beard feel so soft and healthy. The scent reminds me of my grandma's house a mellow vanilla candle feel with the light poperie type follow up, I am not the best at smells but that was what she had and it reminds me of that and is warming. Great product, great company, and a great cause can't go wrong.
Going Gold Limited Edition Beard Oil & Butter
The Gold Standard
The limited edition Going Gold for Children's Cancer Awareness is an absolute must. Not only does some of the proceeds go to a great cause, but the scent profile is absolutely amazing. It all blends together perfectly. I envision the Pirate Life when applying the products to my beard. This is definitely something that you would wanna order two sets of.