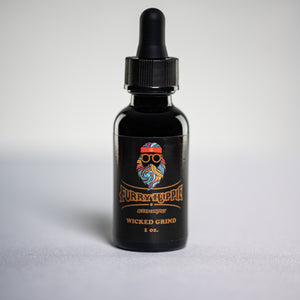 AVAILABLE OCTOBER - MARCH
Keep the mellow vibes of your favorite peppermint mocha with Wicked Grind beard oil.
Ingredients: 
 Jojoba Oil
 Argan Oil
 Sweet Almond Oil
 Pumpkin Seed Oil
Fragrance
Directions:  Start with 4-5 drops and apply as needed until your beard feels wicked! 

Still love my Furry Hippie products
They are the best I've found
Good from the first drop
This oil smells like a good morning waiting to happen. It awakes the senses and haves you ready for the day. Good from the first drop.
Amazing Scent
My face smells like a fresh pot of coffee. I love it.
WICKED GRIND.
I like all of them but this is my favorite. Can't go wrong with any of them!